Our Oral-B Pro 6000 Electric Toothbrush Review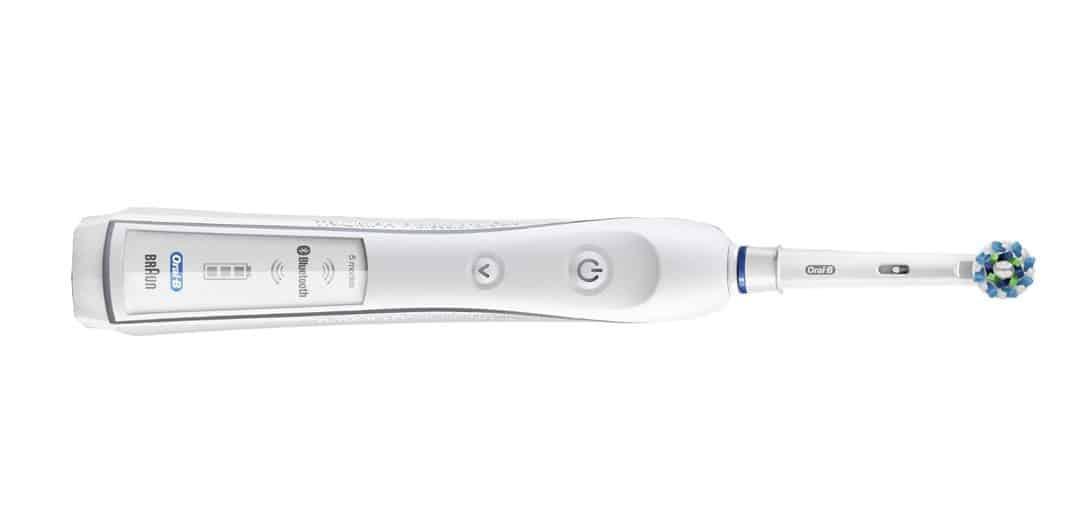 The Oral-B Pro 6000 Electric Toothbrush is one of the customer favorites among all the electric toothbrushes from the Oral-B line of products. The main reason behind the popularity of this specific model is the amount of functionality that it provides you with.
To sum up the entire article in a few words, if you want a reasonably priced model that works and feels like a premium one, then the Oral-B Pro 6000 is the model that you're looking for. (Click here to view this model on Amazon)
[If you're looking for the exact details about the model, make sure that you read the article till the very end.]
The Oral-B Pro 7000, the model right above this model (click here to read our review of the Pro 7000) is pretty much a premium model altogether and is priced accordingly. So, if you're looking for an economic model that feels and looks like a premium one, this is probably the ideal model for you.
What is the Smart Series?
Well, while Oral-B Originally started producing the Oral-B Pro 6000 electric toothbrush, it soon actually made a variant known as smart series of the same that consists of the Oral-B Smart Pro 6000 as well as the Smart 6500.
What are the main differences between the Pro and the Smart series?
There really aren't too many differences. The main difference is that the Smart series actually boasts of a Bluetooth feature while the Pro series lacks it for the most part. This specific review is about the Smart one, and thus consists of the Bluetooth feature. The pro one has all the same features but lacks the Bluetooth option.
What are the main features of the Oral-B Pro 6000?
The Oral-B Pro 7000, as I said, has quite a few premium features to boast of. Here are the main features that makes this model a particular favorite among the users of the Oral-B line of products:
It boasts of 5 modes: This model boasts of 5 brushing modes- which is a fairly high number, and that makes this model a great choice to go for if you're looking for a high level of functionality. However, it must be kept in mind the the Oral-B Pro 5000 also offers you with 5 brushing modes. (Click here to check out our review of the Oral-B Pro 5000!)
Pressure sensor warns you when brushing too hard: This model also comes with a pressure sensor and indicator that lights up when you're brushing too hard. So, this helps you optimize your brushing experience and get the most out of it.
The 30-second timer: This model also boasts of the 30-second timer that alerts you after every 30 seconds during the 2 minute brushing sessions that you have. This feature is basically available in every model from the Oral-B Pro 1000 onward. (Click here to check out our review of the Oral-B Pro 1000)
A durable battery life: This model also claims to have a durable battery life- more particularly, one that lasts for up to 10 days assuming that you brush twice a day for 2 minutes each.
Wireless Smart Guide:  If you're looking to brush properly and need a little bit of help with it, this is the feature you need. The Wall-mounted smart guide would indicate the right way for you to brush your teeth.
Comes with 4 brush heads: This model comes along with not one but four brush heads! The Vitality, by comparison (also a model that's praised for coming with more than one) comes with two brush-heads. (Click here to check out our review of the Oral-B Vitality)
You have the Bluetooth if you opt for the smart series: As I discussed earlier- if you choose to opt for the smart series, you would be presented with the Bluetooth as well.
What are the main limitations of this model?
This model does not really have too many limitations to be honest. However, here are some of the main things you might want to keep in mind before you choose to finally go for this model:
It's thicker and heavier than the average electric toothbrush: This toothbrush just happens to have a little more weight and thickness than the average toothbrush out there. It often feels like it's a little too big for a few people, so make sure you check out the dimensions.
The Wireless Guide is useful only for learners: After you've learned how to brush in a proper way, you don't really have much use for the wireless guide anymore. However, for people who plan to learn how to brush perfectly, the guide is still really useful.
The Price of the model: Honestly speaking, this model's full price is actually a little too high. However, since it's often available for a much discounted price- this model is worth going for at that point of time without even having to think about it twice. If you're looking for a slightly more affordable model, you might want to check out the Oral-B Pro 5000 (click here to view it on Amazon)
Conclusion
Honestly, this model does not really seem to have a point that really gives you a reason not to go for it. If you're fine with the thickness and if you can spot it on a sale, this seems like one of the models that are most certainly worth going for.
This is even more true owing to the fact that this model is actually much more affordable on sales and actually gives you much more functionality than you might really expect from a model that's in a price range as it is during sales.
If you feel like this might be the right model for you to go for, Click here to buy it on Amazon!