How long does it take to charge an oral b toothbrush?

One of the only cases where you feel like you'd rather get a regular toothbrush is when the charge of the electric toothbrush ends. However, once you're used to the comfort of an electric toothbrush, it is pretty much impossible to go back, isn't it?
So, it's important to figure out when the battery is about to end so that you can charge it and don't run out of battery when you're actually brushing your teeth.
So, how long does it take to charge an oral b toothbrush? Well, depending on the exact model, this can be anywhere between 12-22 hours. This mostly depends on the battery size, although the rate of consumption also plays a role. Naturally, the duration it's going to last is based on the assumption that someone would use it for two minutes twice a day.
[Please read the article in its entirety to find out how long each model takes]
How long does it take to charge an oral b toothbrush?
Oral B toothbrushes usually don't take too long to charge. Again, they also retain charge for a pretty long time, which makes them an efficient choice when it comes to charging as well as use.
However, they might take anywhere between 12-22 hours depending on the exact model that you're planning to use. Let's break it down model wise below: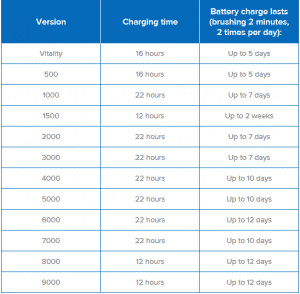 8000 and 9000 and 1500: 8000 and 9000 and 1500 are the models that require the lowest amount of time to charge- 12 hours. They are fully charged in that time and last for up to 12 days, assuming an average amount of use.
Vitality and 500: The vitality and 500 models take about 16 hours to charge and the charge lasts for about 5 days.
The rest of the models: The rest of the models such as the 1000, 2000, 3000 etc take 22 hours to charge and can last from anywhere between 7 days (as is the case with the 3000 model) up to 2 weeks.
So, once again, while that is the specific range for how long you might want to connect your electric toothbrush to the socket, the exact duration would depend on your model.
What role does the red light play?
Now, you might have heard about the red light when it comes to the oral B electric toothbrushes. This red light is actually the most important thing out there to know when your toothbrush battery is about to run out.
This red light is actually a low battery indicator that turns on when your have one or two brushes worth of battery left. This means that it is really important to put the electric toothbrush on charge now.
Wondering about the exact details of this feature? Well, Tooth Advocates has already prepared an entire article for you on this to help you out with this- click here to read it!
Can you use your electric toothbrush in the shower?
So, have you ever tried using your electric toothbrush while showering? I used to do it all along until one day my friend came along and told me that it's not really a good way if I want to keep my toothbrush in a good condition.
So, I did my research and found out that it really wasn't that bad for my toothbrush after all. But I also figured out that this is one of those issues where everyone might not be entirely aware about the pros and cons.
So, Tooth Advocates has prepared an article on it that takes a look at all the positive and negative aspects of using your electric toothbrush in the shower, as well as all the precautions that you should ideally take- click here to check it out!
Washing your toothbrush properly still remains just as important!
Another thing you might want to keep in mind is that you still need to clean your toothbrush every once in a while.
Regardless of how much you take care of it and where you keep it, this remains constant.
The main reason is that it actually ensures your overall dental hygiene and takes care of any possible germ buildup on your toothbrush.
[However, as you might have guessed, there are a lot of potential ways to approach this problem. Keep reading to find out about the most recommended ones!]
So, there are some ways that are naturally better than others, as we can see from experience.
Tooth Advocates has already taken the time to describe the methods and how you might want to use them. Click on these links to check out our articles on these!
Tooth Advocates is always here for you!
So, we've reached the end of today's article. We thank you for taking your time to read the article in its entirety and really hope that you liked it. We hope that you found the information that you were looking for and would be able to actually apply this information in making your brushing experience even better than it already is.
We understand, however, that there might be a few things that you still want to ask us. And guess what, we here at Tooth Advocates love to hear from you! So, if there's anything like that which you think we might be able to help you with, please let us know and we would try our best to help you out! Please do not hesitate in reaching out to us if there's any question that you have- we are always here for you.
Once again, thank you for being here till the very end of this article. We hope to see you again on our upcoming articles as well. Till we meet again on the next one, Tooth Advocates takes your leave!